I don't know if you know this but I love coffee!
Like most people my love started out with the sugary substance known as a mocha. I loved heading with my friends in high school to Caribou for an "after school mocha" and homework. We spent a good amount of time trying out the various forms of mocha. WE LOVED THE MOCHA. Then one day, my body was like NO MORE MOCHA.
I slowly switched from vanilla lattes to lattes to coffee with cream and vanilla syrup to coffee with cream to straight up black coffee. The latter didn't come easy but when you have a 7:00am science lab in college and no cream in sight, you learn to like it.
So, you're probably like, "Thanks for the history of your coffee relationship…get to the conundrum!"
The problem.
I've been using a Keurig coffee maker for awhile now and the convenience is amazing. A cup of coffee in under 30 seconds, yes please. However, there has been talk about it being bad for the environment and our health. Plus, I'm not a fan of the coffee produced. Point being, I'm searching for my new home brew method. 
The Options
I've been looking at a few options when it comes to my next coffee maker. Here are some I like with the pros and cons.
The Pourover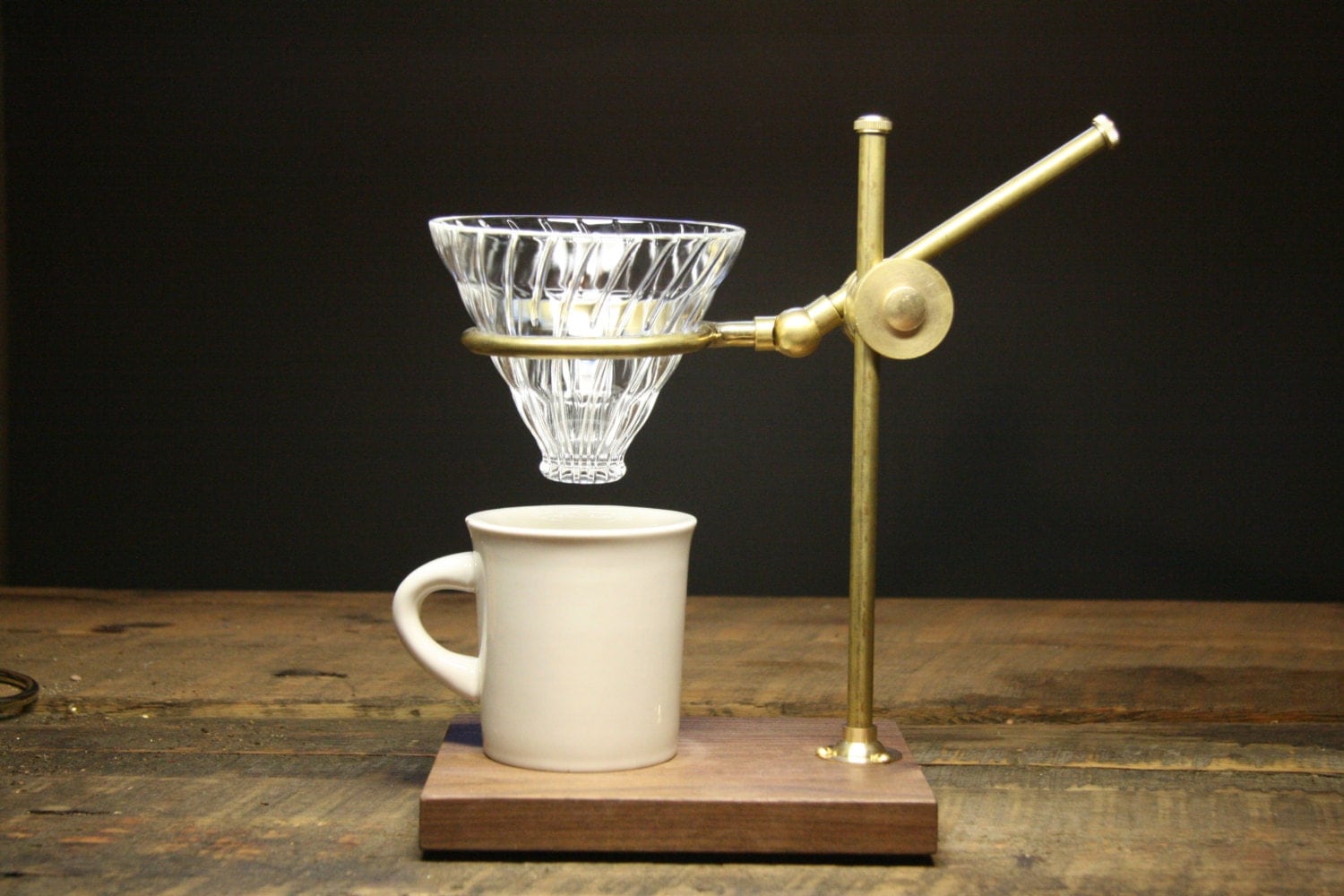 Arguably the simplest and cleanest way to draw out a coffee's best qualities, the pour-over method is elegant without being prohibitively difficult. For those accustomed to coffee from a drip machine, this method will produce something similar but noticeably more delicate and complex. – Blue Bottle Coffee
Pros:
Amazing cup of coffee
Ability to control various aspects of coffee
Pour over device is inexpensive
Easy to use
Cons:
Time consuming at 4-6 minutes brew time
Only holds 2-4 cups
Multiple devices needed: Scale, Grinder, and Kettle
Filters can be costly
Investment: Hario Coffee Dripper ($20) | Hario Coffee Drip Kettle
($35) | Cuisinart Burr Coffee Grinder
 ($50)
The Chemex
Coffee from a Chemex is very similar to drip coffee. In order to guarantee the best results, make sure you've ground your coffee a bit coarser than in a ceramic dripper and that you've given extra attention to your rate of pour. – Blue Bottle Coffee
Pros: 
Makes plenty of coffee (3-10 cups)
Like pour over, you have more control over flavor
Yields a sweeter coffee
3 Styles (Classic, Handle, Hand Blown)
Cons:
Coffee could quickly become cold
Requires the most attention to detail and time
Needs special filters (if you don't buy a Kone)
Investment: Chemex 8-Cup
 ($40) | Hario Coffee Drip Kettle
($35) | Cuisinart Burr Coffee Grinder
 ($50)
French Press
French press coffee is dense and heavy. We think that a well-prepared French press is actually quite pure. – Blue Bottle Coffee
Pros:
No paper filters needed
Makes plenty of coffee
Great flavor
Limited extra accessories needed
Cons:
Getting grounds in your cup of coffee
Cleaning the filter properly is important if you want the french press to endure
Investment: I already own a french press, but should invest in a better option like the Kuissential French Press
($40) | Hario Coffee Drip Kettle
($35)
Convenience
None of these options is as easy as a Keurig but all of them draw me in. I love a good cup of coffee but, strangely, I don't mind a not-so-good cup of coffee. My bigger problem is that I need to change my conveinence culture mindset when it comes to coffee, something that I actually enjoy when it's made properly.
What are your thoughts?
Let me know in the comments below!